Hunting for a Painting Contractor in Morro Bay, CA?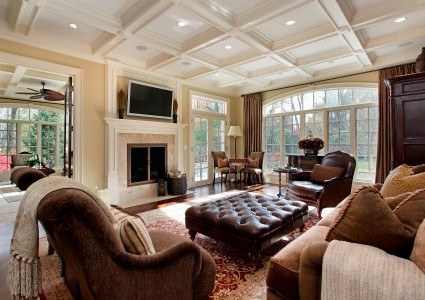 You'll find plenty of reasons to hire a Morro Bay painting contractor especially after you find out about their other services besides interior & exterior painting. Browder Painting Company, Inc. does a little bit of everything. Call to have your deck & cabinets refinished today.
Morro Bay Painting Contractor
Exterior latex paint is one of the most durable types of paint out there. That's because it has to last and protect the home from extreme weather conditions that include too much sun & rain. The best time of the year to paint the exterior is in the spring.
The reason that spring is best to have your home painted is due to the weather. The temperatures make it just right as it's not too hot nor too cold. You'll always find an excuse to hire a painting contractor in the spring.
The exterior of your home can get stressed out. No, not like we do, but stressed in the terms of age. Aging is something that all homes will go through and when they do, it's up to the homeowner to find a reputable painting contractor to take care of the problem.
Morro Bay House Painter
A good house painter is hard to find these days as everybody is trying to make a quick buck. It's especially hard to find one that does interior painting well. A great house painter will be well versed in both interior & exterior painting, but a central focus in interior.
If you're looking for a house painter, go with the local's favorite Morro Bay House Painter. Browder Painting Company, Inc. set the bar for interior painting in the area. Ask around, we bet that all your friends and neighbors will recommend us as well.
We'll show you just how much that interior paint can affect your life. You'll learn the differences between high-gloss and semi-gloss and also wall types. Different paint finishes have different advantages and we want to show you how.
Morro Bay Interior Painting
In tough economic times, many homeowners are looking for affordable ways to bring new life to tired rooms in their homes. There are many affordable ways to remodel, especially if you are willing to do all or some of the work. Probably the most affordable makeover for any room of the house is a fresh coat of paint.
But with some creative thinking and a little knowledge of faux painting techniques, you can make a room look totally different. Even more, most people will think you spent far more on your remodel than you will actually need to spend. If you're looking for something completely different, connect with your Morro Bay Interior Painting Contractor.
Reviews & Testimonials on Browder Painting Company, Inc. in Morro Bay, CA
The crew was excellent and easy to work with. After a small hiccup with the paint color, they helped us choose the right paint and proceeded quite professionally.

The crew was excellent! Arturo is very professional and a good and pleasant person (number 10 in my book) and Andre the young man is a very hard and talented worker on time every day and very knowledgeable. Thank you to Nick, and Roberto who listened to my needs and Colleen and Latia for all the scheduling. Thank you for a "GREAT JOB"!

Our Recent Articles
Why You Should Hire an Interior Painter

Whether you are painting just one room in your San Luis Obispo home or you are repainting the entire interior, the choices and work can seem overwhelming. When you set out to paint the interior of yo […]

Oceano Professional Residential House Painting Ideas

As much as you want to repaint the exterior of your Oceano home, you can't think of any ideas that can get you started with the project. At this point, you simply want change, but you are still are n […]

Santa Maria Exterior House Painting

Choosing colors for your Santa Maria exterior house painting project is more difficult than what you think. This is because a wrong choice of shade can either make your house appear too subtle or too […]
Our Latest Projects in Morro Bay, CA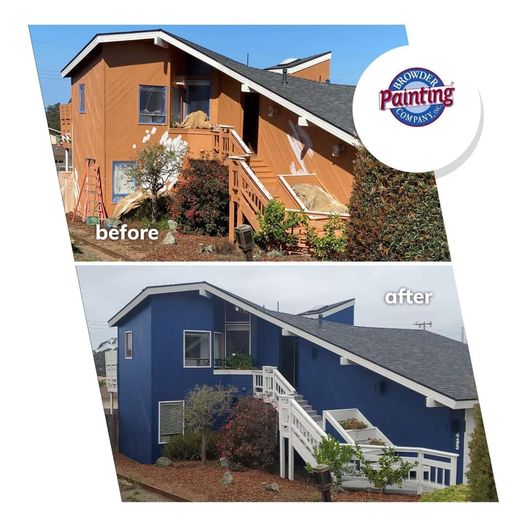 Sometimes one can buy a house and the color just does not feel right. Here is an example of a client really making their new house feel like Home. Using 2 coats of Sherwin Williams Emerald Paint, thi […]
Power washing is one of the first steps taken in an exterior paint job similar to the Masterpiece Hotel, as it is necessary to remove all excess debris and dirt that might not be visible at first gla […]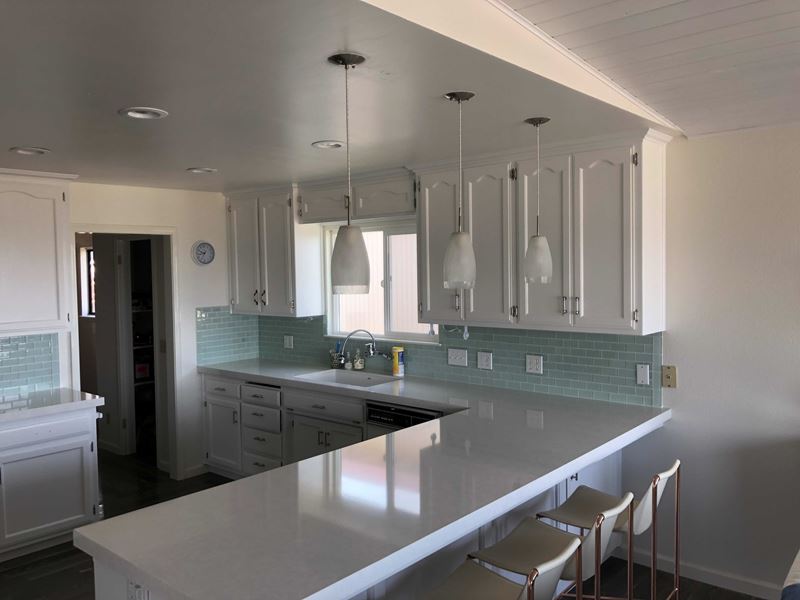 Here's a look at a recently completed kitchen cabinet painting. What a stunning change! This home updated the look of its kitchen from the dated honey wood cabinets to a fresh, crisp, modern white pa […]