San Luis Obispo Cabinet Refinishing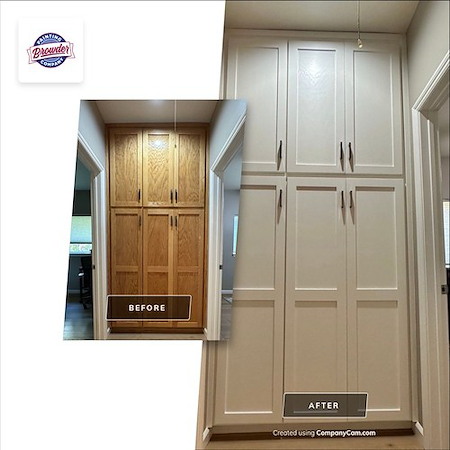 Did you know that kitchen cabinets can consume as much as 40% of your remodeling project budget? It is true and the average homeowner is more concerned with other elements and features of the kitchen. Yet one of the features you care less about, could end up eating up almost half of your overall budget - if you are not careful.
This is why savvy homeowners opt for cabinet refinishing, as well as make it a point to work with Browder Painting Company, Inc. in order to get the job done. Too many homeowners lack the planning and budgeting required to make their renovations a success. Too often greedy contractors may fail to make their clients aware that refinishing is an option, because it could mean more money in their pockets.
Be diligent when it comes to knowing your options for saving money on your kitchen remodeling job. You already have the cabinets in place, why go through the hassle and expense of removing them? Our San Luis Obispo Cabinet Refinishing experts can provide you with service excellence, turning your outdated cabinets into the cabinetry of your dream.
Trust our San Luis Obispo Painting Contractors, even if you think you don't care that much about cabinets, once you see the results that we can provide for you, you will be singing a different tune. Whether you are aware of it or not, your cabinets end up being the focal point of your kitchen. Fail to get a set that you love and you could be making an outdated and unappealing feature of this room the main visual aesthetic.
Prompt and Professional Cabinet Refinishing in San Luis Obispo
The reasons why opting for refinishing your cabinets versus replacing them are relatively easy. Yet, if you haven't given it much thought yet, you may not even realize it. So here are some points to ponder in favor refinishing for remodeling as opposed to replacing cabinets during renovations.
Obviously, one of the most helpful advantages is that this is a more cost-effective alternative to buying new cabinets. Since cabinetry can take up to 40% of your kitchen remodeling budget, it makes sense to look for ways to reduce that expense. Refinishing the cabinets that are already in place can cut your cost down to a fraction of that financial obligation.
It saves time which helps keep your renovation project down to a minimum. Having a section of your house ripped apart for renovations is trying enough. The less time it takes, the better. So, obviously, eliminating the need to rip out your cabinets and put all new ones in will make a huge difference.
It is more Eco-friendly. For any homeowner concerned with making your project more environmentally responsible, re-purposing cabinets that already exist is much "greener" than throwing out perfectly good cabinets and replacing them with something new. In this day and age, ti is important to take any steps possible to be more Eco-friendly.
Don't worry, your old cabinets can have a whole new look, once we get done with them. You will not be looking at the same old cabinets with a new color. The refinishing work we do will still make it look as though you sprang for all new cabinetry.
Excellence in Service for your Residential Cabinet Refinishing
Let the experts here at Browder Painting Company, Inc. take care of your service needs, when it comes to cabinet refinishing. We can help you gain better insight as to what the benefits are to opting for getting cabinet refacing, as opposed to replacing them all. We promise that you will love the final look, as well as appreciate the amount of money it will help you save.
If nothing else, it pays to know more about the options that you have so you can stretch your kitchen remodeling budget farther. We take great pride in being able to provide our clients with a variety of options, as well as the best possible results. Do yourself a favor and give us a call today so we can give you the information that you need, in order to make a good decision.
Our Recent Cabinet Painting & Refinishing Articles
Our Latest Cabinet Painting & Refinishing Projects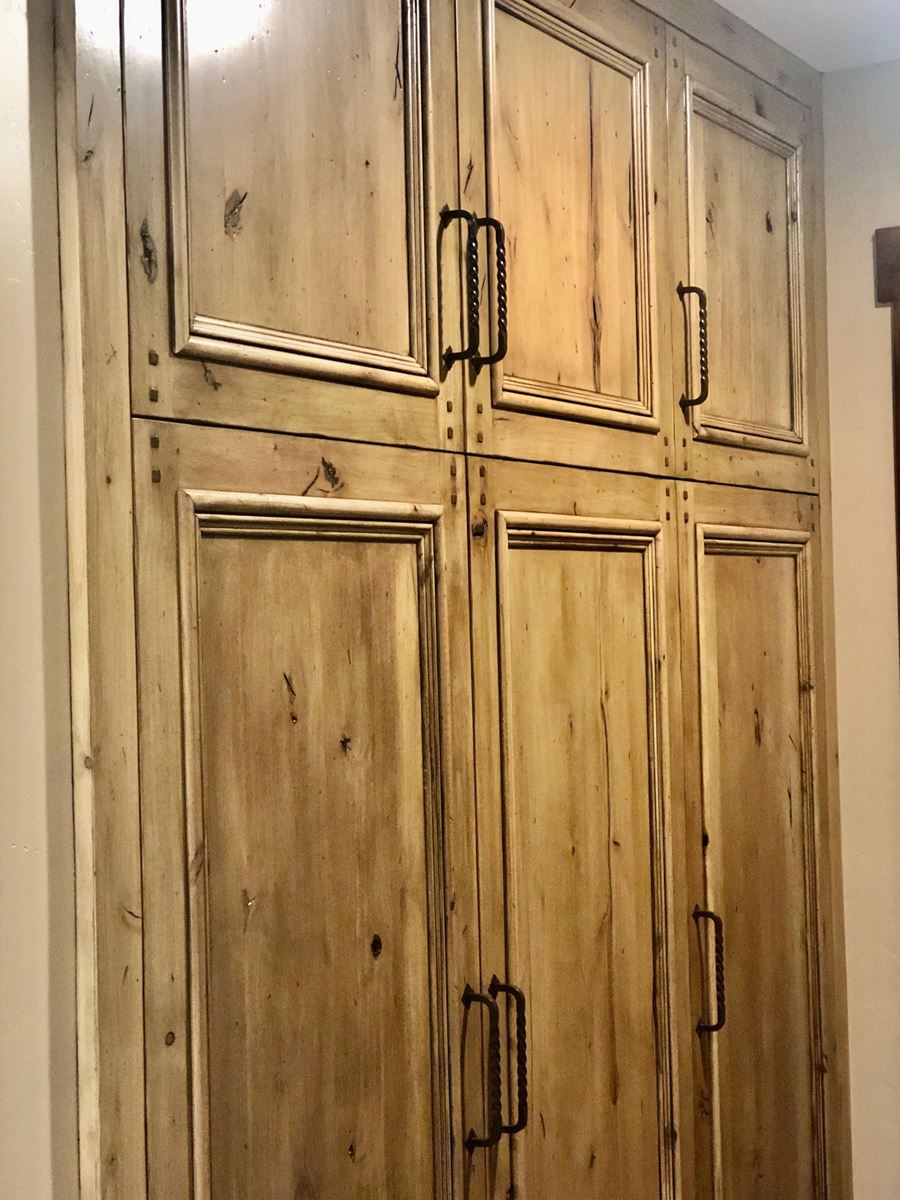 Cabinetry made antiqued with some artisan skills! Take a look at these custom rustic cabinets. These knotty alder wood cabinets began as brand new & were distressed by Browder Painting Company, I […]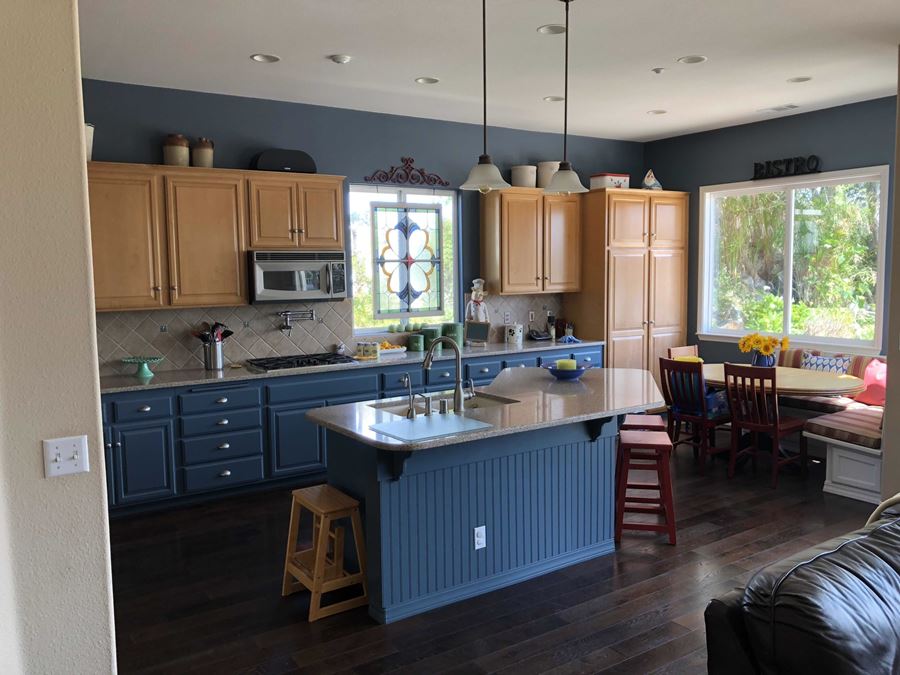 This kitchen has a brand new look and all it took was repainting the lower cabinetry with a bold, blue finish. Refinishing cabinets in your home is not only an affordable, but also time and effort ef […]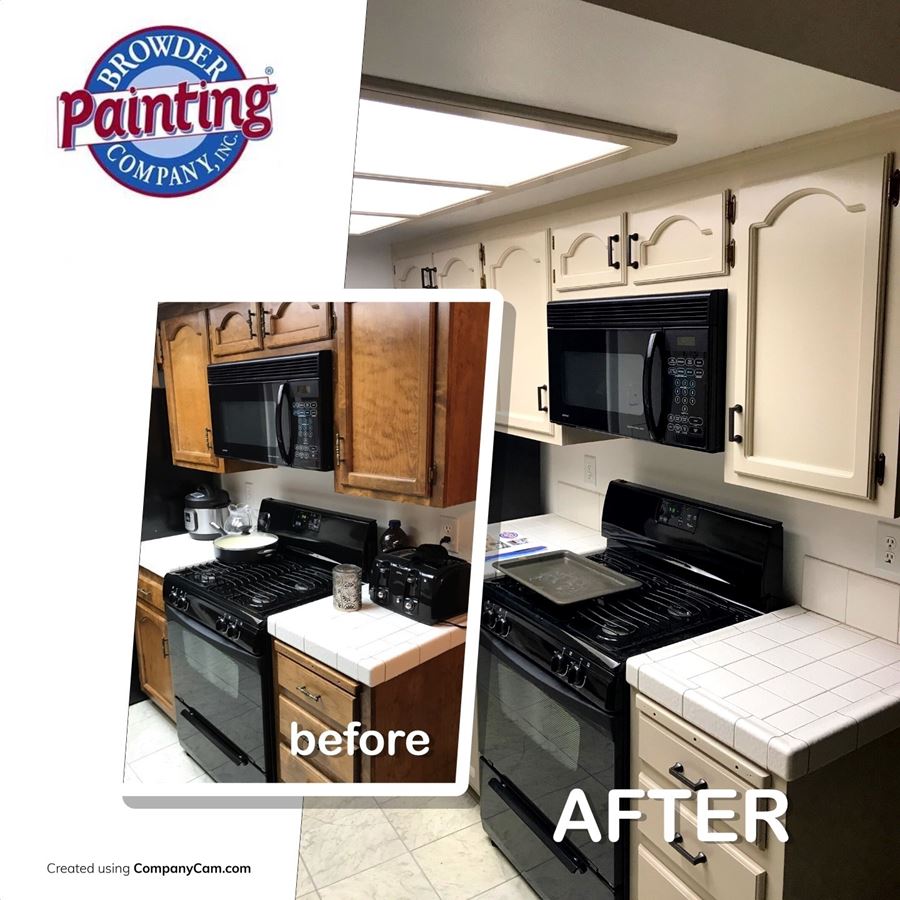 Giving your cabinets a fresh new coat of paint is an easy way to completely upgrade your entire kitchen. At Browder Painting Company, Inc., we make sure we make the process as simple as possible on t […]