San Luis Obispo High Pressure Washing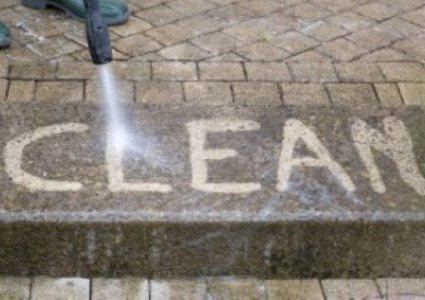 Is the outside of your home dirty? If you find it hard to keep clean, then have a San Luis Obispo high pressure washing done to it. We can provide you with this service at Browder Painting Company, Inc.. We'll get those dingy areas clean and keep it clean. Our pressure washing service is great for both the home and the office.
Mold and residue can not only take away from the appearance, but can also pose a health risk to your family and should be eliminated promptly. Gutters with a black streak may need to be cleaned to prevent clogs and speed up rotting. The pressure washing specialists at Browder Painting Company, Inc. can address these issues and concerns as well as others that can be fixed with pressure washing.
As the saying goes, when it rains it pours. This is true for all homes. Whenever it rains, the rain tends to kick up lots of mud around the foundation leaving you with a dirty exterior by the rain's rend. This type of mud is hard to get off as it's spattered all over.
Benefits of San Luis Obispo high pressure washing:
Home's value increased - This is one of the most easiest ways to increase the value of your home. Just call us and your home will be as clean as it ever was. Pressure washed homes can fetch anywhere from $10-15,000 extra.
Protection for the family - Mold, mildew and algae tend to grow on the North faces of homes. Many areas of the home don't see lots of sunlight. Bacteria grows rapid in those dark area. A high pressure wash will take care of that for you.
Added curb appeal - You'll find that more people will stop to take a second look at your home as it will be that much cleaner. If you want a more attractive home, then call us.
Preventative maintenance - A regularly scheduled pressure washing will prevent bacteria and dirt from growing on the side of your home. Also, your exterior will hold up a lot longer with a scheduled pressure washing.
Get Your San Luis Obispo Home Cleaner Than Ever Before
Contact Browder Painting Company, Inc. today and let our high pressure washing techs tend to your home. We'll prepare it for this upcoming summer so that your home will not only get more looks, but receive lots of compliments.
A San Luis Obispo high pressure washing service like ours is very hard to beat. We'll make your home look like new again. If your exterior hasn't seen a good cleaning in years, then call us. We'll make one happen.
Our Recent High Pressure Washing Articles
Our Latest High Pressure Washing Projects
There are currently no high pressure washing projects to display, check back soon!