San Luis Obispo Deck Refinishing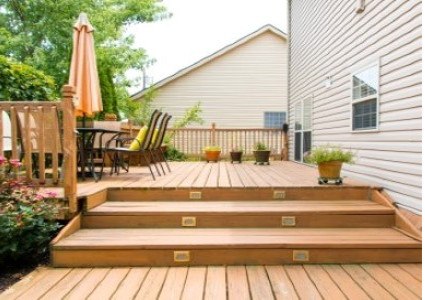 Having a deck is a wonderful thing. It gives you a place for you and your family to make summer memories that will last a lifetime. In fact, more and more homes are making it a point to add some level of outdoor living space to their home.
However, part of keeping that deck in good condition is taking care of it with professional services like Deck Refinishing. When you find yourself in need of a service like that, the name to trust in is Browder Painting Company, Inc.. We take great pride in the work that we do and that is evident from the results that we are able to get, for each of our clients.
A well cared for deck can last for years, if not decades. On the other hand, fail to address the service needs of your decking and you could be replacing it instead of refinishing it. Let our San Luis Obispo Painting Contractors help you take the best care possible of your deck, in order to preserve it for years of use to come.
Prompt and Professional Deck Refinishing in San Luis Obispo
In case you were not already aware, there are a number of reasons that you need to opt for deck refinishing. Let us help you to better make sense of the benefits and necessary reasons that you need this type of service:
Deck resurfacing can help change the look. Whether you have grown tired of the appearance of your outdoor living space or just want to change it from the way the previous homeowners had it, this service makes that possible. Pick a different stain, paint or finish and create a whole new look.
Most importantly, this is what protects your wood surfaces. Wood has to be treated and sealed, in order to keep it in tiptop shape. Fail to do so and you are putting your deck at risk of succumbing to the wear and tear of the elements and regular use. This will also help make your wood surfaces less vulnerable to common problems like wood-boring insects.
Obviously, it is much more cost-effective to refinish your deck, as opposed to replacing it. In fact, resurfacing your deck costs merely a fraction of what it would cost to replace the entire system. Make it a point to stay diligent about refinishing it on a regular basis, so you can avoid the need for replacement, long before it should be time.
Quality finishing also helps make your deck safer, it's true. It may be hard to believe but your deck can begin to splinter once it is in need of refinishing. These exposed splinters begin to make it unpleasant to use. So, you are either forced to wear shoes to your outdoor living spot, or take the risk of getting splinters in your bare feet. Don't take this type of unnecessary risk.
Your home is your biggest investment and your decking is an extension of that. Maximize the property value of your house and take good care of your investment by addressing the needs of your deck.
Excellence in Service for your Residential Deck Refinishing
Browder Painting Company, Inc. is the name to rely on when you find yourself in need of professional residential deck refinishing. Every job we work on is our number one priority, until it is completed to the total satisfaction of the client. We look forward to having the opportunity to partner with you in order to make certain that you get the workmanship you want and the results that you deserve.
Improve the appearance and value of your decking system, with quality resurfacing work. Plus, this will help make it a safer surface for you, your family and your guests to walk on. The quality work we will leave you with is going to help make your deck the perfect additional extension to the home of your dreams.
We are committed to the service needs of each of our customers and there is nothing that we can't do. Let us demonstrate to you, firsthand, how our service has helped us earn the impeccable reputation that we have.
Our Recent Deck Refinishing Articles
Our Latest Deck Refinishing Projects
There are currently no deck refinishing projects to display, check back soon!